Waterfront Beer Garden serving up the award-winning beer from the Lost Colony Brewery. Kick back on our deck at one of the dozens of waterside tables. We encourage you to pack your own picnic, order a pizza delivery or bring some take/out food from any of the fantastic restaurant OBX restaurants. Browse our shop filled with brewery t-shirts, sweatshirts, long sleeve sun shirts, and local art. Come get Lost in our veiws!
Located in Stumpy Point on Dare County mainland, this 10,000 sq ft facility houses the heartbeat of the brewery. We brew daily on our 30 barrel brewhouse to create the freshest and best English-style ales to be found on the coast.
Paul Charron opened the beast in 2016, after years of brewing on a two-barrel system in the 300 sq. ft. pub in Manteo. Stumpy Point scored the perfect tri-fecta of potable water, space, and an awesome waterfront view.
Today we are pushing out enough beer to keep over 100 local eateries stocked and ready to pour for the thirsty denizens of the OBX. It has never been a better time to 'Get Lost."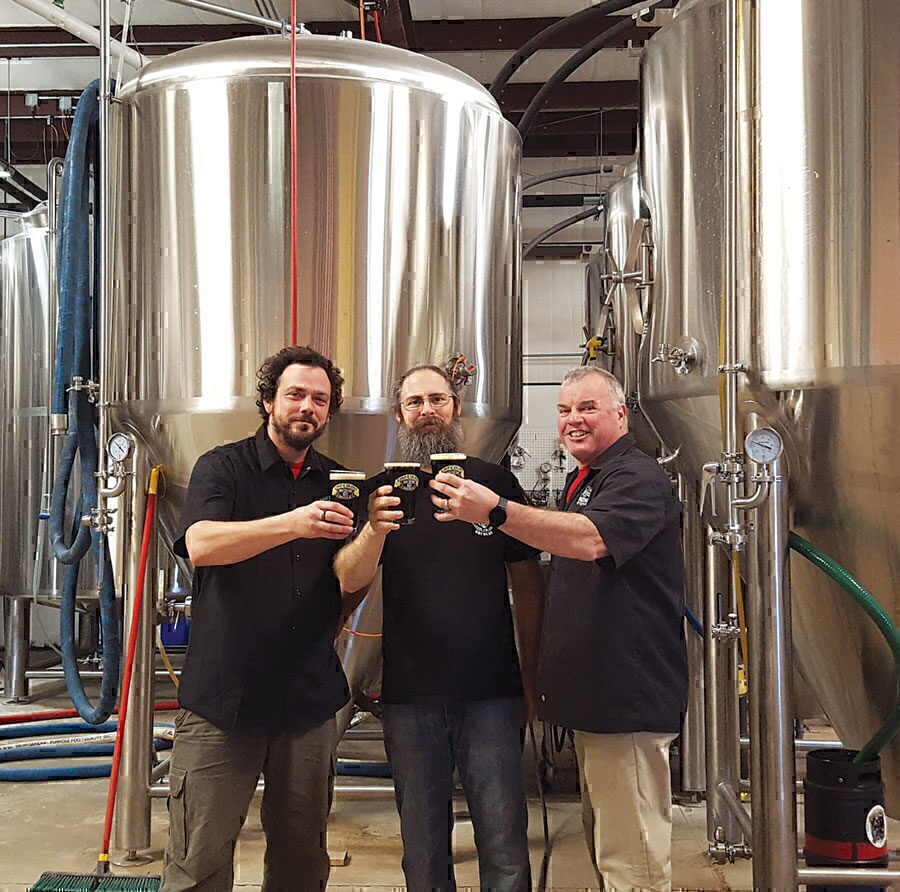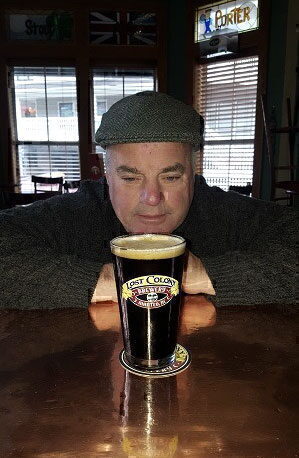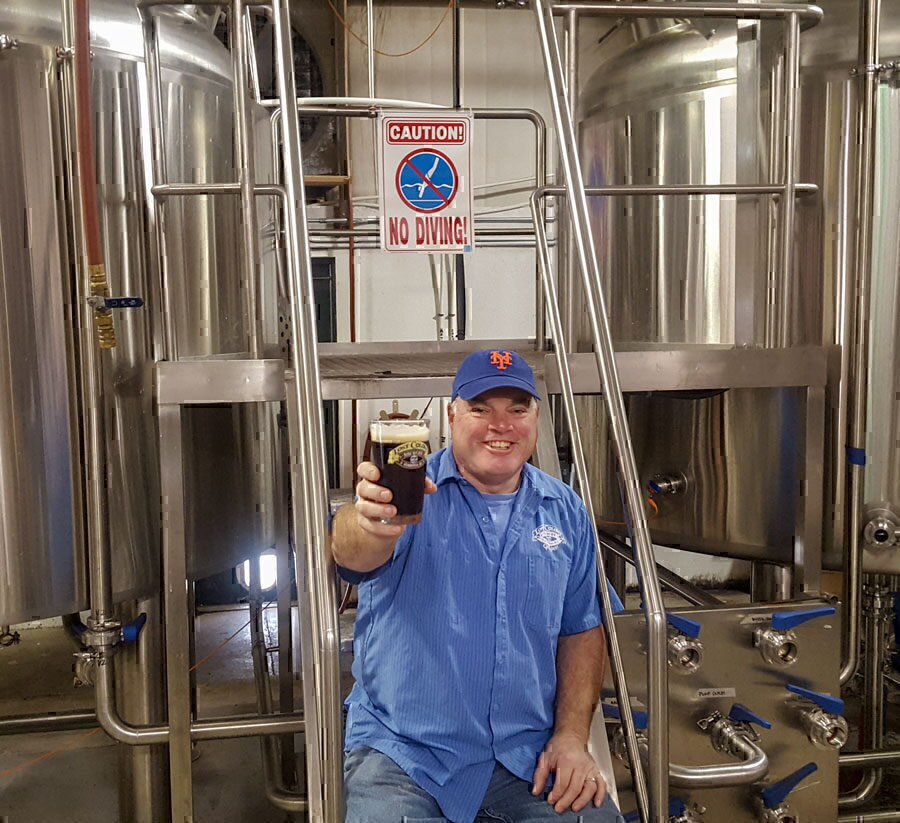 THERE IS A STORY BEHIND EVERY BEER
Sharon and Paul came to the Outer Banks in the dreary winter of 1989. It was to be a brief stop in Paul's aviation career; a short sojourn to build up flying hours and land a spot with a major airline. Fate intervened. They bought a house, started a family and in the fall of 1995, Sharon opened The Full Moon Café in Manteo. Paul ended up joining Sharon in 1996 and ran the restaurant as a joint venture for 26 years, expanding a little each season.
Paul's friend Jamie, (the mayor of Manteo) showed up one day at their house in 2005 with a home brewing kit that he got for Christmas. Jamie dabbled in the art, but Paul got hooked on brewing. Over the years his brew pots got bigger, and bigger and bigger. He started brewing for the restaurant, installing a 2 nbarrel (60 gallons) system in a 300 square foot space that formerly housed Sharon's local art gallery. The initial concept was to brew English styles ales for only The Full Moon Café. That lasted about a nanosecond. Soon other local restaurants wanted to carry our beer and that led us down the road to…..
Stumpy Point
Yes, that's a real place. In 2011, Paul distinctly remembers saying "Oh no. We will never brew for anyone other than us." Well, so much for that. We rebranded as the Lost Colony Brewery and became available on tap in over 30 locations on the Outer Banks. We needed bigger pots and a much bigger location. A two-year search led us down the sound to the fishing village and good people of Stumpy Point. There we found a 10,000 square foot boat shop, pure water, and a perfect view. We had gone from a 300 square foot pub to a warehouse that holds some really big pots, capable of producing 1000 gallons of beer at a time.
Lost Colony Brewery
We launched the brewery in Stumpy Point in early 2016 and ran the production facility and restaurant in Manteo simultaneously for the next 6 years. Every year showed a 25 percent increase in sales for both locations. Sharon's boutique café grew along with the town of Manteo into a must see OBX destination. Along the way our three boys grew into successful men, tempered in the restaurant trenches and moved on to successful careers.
Then after 26 years of restaurant life filled with fantastic employees, incredibly long hours, missed holidays and anniversaries, and glowing reviews from the Boston Globe, Southern Living, The Atlanta Home Journal, and The Discovery Channel came the spring of 2020.
We were happily chugging along until Covid hit in March. Dare County decided to close the bridges leading onto the Outer Banks for months, which was practically a death knell to any small business. We, like so many other staunch Outer Bankers, girded our loins and adapted our business plan to reflect the new reality. Each new 'mandate' brought another regulation to our feet: 'carry-out food only', 'one third capacity', 'masks worn at all times', 'social distancing', etc, etc, etc. It was horrible and terrifying. When the OBX finally opened to visitors in May the floodgates opened. For the rest of the year, we saw record numbers far into what is usually considered our 'off-season', or down time.
2021 proved to be just as challenging. The crowds were here, hungry and thirsty, but the work force had disappeared. The total lack of seasonal workers combined with employees leaving the work force in droves caused many restaurants to close for a couple of days each week. When our son Keagan, who worked in the kitchen, went back to college in August, we didn't have enough back-of-the house staff to keep going full time. We were forced to close a couple of days a week, 14 shifts down to 5. During this time, we discovered days off. We discovered family time. We discovered 'us' time. There was no going back. We sold the Lost Colony Café and kept the Lost Colony Brewery.
Back to the Future
Today, we concentrate solely on the beer business. Production in Stumpy Point is humming along thanks to our amazing employees. We have recently opened a tasting room on the Nags Head-Manteo Causeway. We call it The Lost Colony Brewery Waterfront Beer Garden. The views are astonishing, and the beer is awesome, but best of all we are out of the restaurant business.
We invite everyone to pack a picnic, order a pizza delivery, get some take out and join us on the water. And when you get here be sure to ask….
What's with the beer, the bar stool, and the book?
Every day in the pub we pour a beer in honor of Paul's Dad. Paul Senior loved a good pint and a good story—preferably his own. So, if you find yourself sitting on 'Paul's Stool' do what he would do and buy a round for your friends. Slainte!
If you're sitting outside:
Lucky you! You're on vacation on the Outer Banks, enjoining the natural beauty of Coastal North Carolina. Just remember that all of nature is not sunshine and rainbows. Thus, this disclaimer: We at the Lost Colony Brewery are not responsible for rain, wind, hail, hurricanes, or any other acts of God. We are also not responsible for flies, mosquitoes, errant monkeys, mad dogs or Englishmen.
Why are those cows so fat?
At the end of a brew day, we have a lot of beer and a lot of wet grain. Rather than dump all that spent grain in a landfill, we give the local cows, pigs and chickens a feast. Last year we recycled 750 TONS of barley.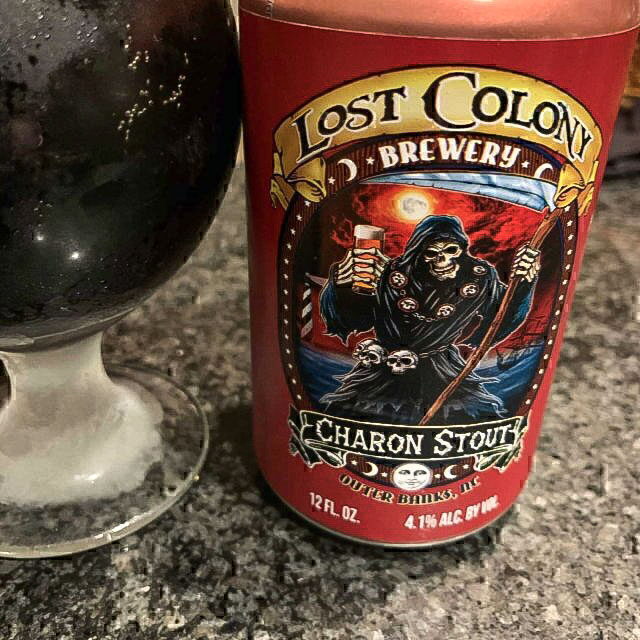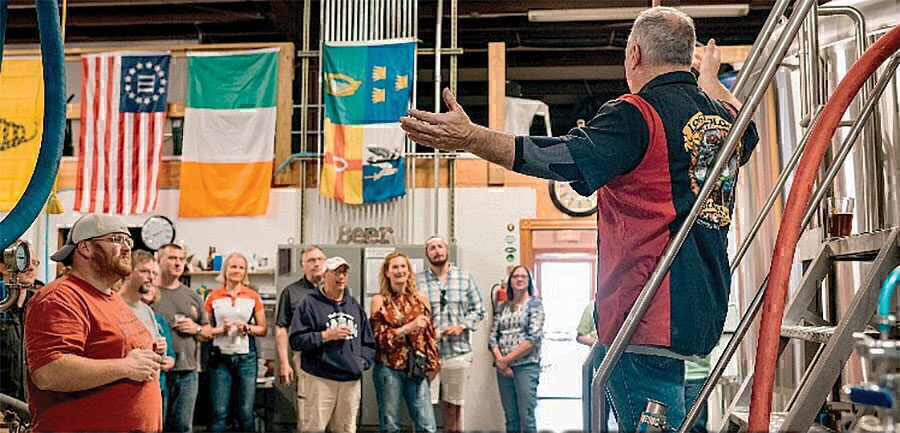 Awards
8 World Beer Championship Medals!
Tasting Room:
7531 S. Virginia Dare Trail
Nags Head, North Carolina 27959
Working Hours:
Open Daily 1 pm til 9 pm