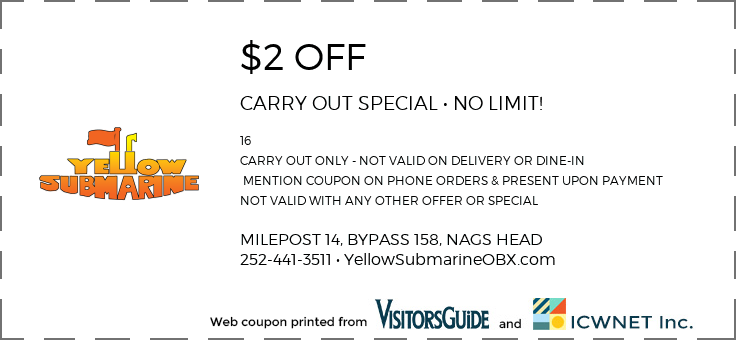 print
Established in 1976 in Nags Head, Yellow Submarine was the first eatery on the Outer Banks to offer oven-baked subs. Since then, the menu has expanded considerably to include hand-tossed pizza with fresh sauce and Philly or chicken cheesesteaks. Pizzas range from veggie to classic white, Greek, Buffalo chicken, Meat Monster and Hawaiian White. Various flavored of wings offered. Deli subs made with fresh Boars Head meats & cheeses.
Located at Outer Banks Mall at Milepost 14 off the Bypass, this comfortable restaurant also offers Caesar, Greek, Buffalo Chicken and Chef salads, numerous snacks and draft beer. Want something sweet? Have some N.Y. style cheesecake. Kids menu, for dine-in only, includes chicken tenders and pizza.
Delivery is available between Mileposts 9 and 22 with a minimum order of $15.
Hours are 11:30am-9pm in-season, May-September.
Hours are seasonally adjusted in the off-season.