Jennette's Pier is one of the longest running attractions on the Outer Banks, although seasoned vacationers would have trouble recognizing the original 1939 structure. After taking a severe battering by Hurricane Isabel in 2003, the pier was revitalized into the modern structure it is today, with a fantastic on-site educational center, seasonal programs for visitors of all ages, and of course, some pretty spectacular fishing off the 1,000 foot long pier.
Today, Nags Head and central Outer Banks vacationers with a hankering for some good views or some great fishing are welcome to flock to the pier to check out the new digs. As a ground-breaking addition to the North Carolina Aquarium system, as well as a fantastic spot to cast out a line, Jennette's Pier is as popular as ever with regular visitors and newcomers alike.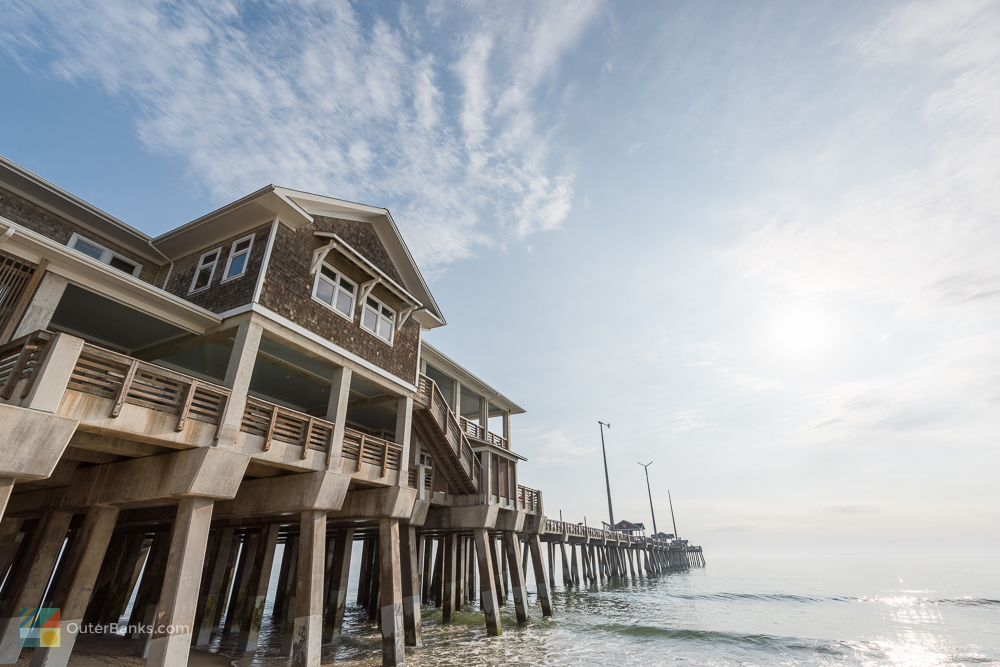 History of Jennette's Pier
As mentioned, Jennette's Pier has had an incredibly long history of being a well-loved fishing spot, dating back to its construction in the late 1930s. At the time, Nags Head was a popular destination for wealthy beachgoers who set up elaborate oceanfront homes bordering the ocean, (a historic area which is known today as "millionaire's row"), although the common folk were beginning to trickle in and discover the phenomenal beaches. As more and more East Coast vacationers started to head to Nags Head, and the rumors of the exceptional fishing on the Outer Banks spread far and wide, businesses began to pop up all along the coast, and it soon became clear, at least to some locals, that the Outer Banks needed a fishing pier.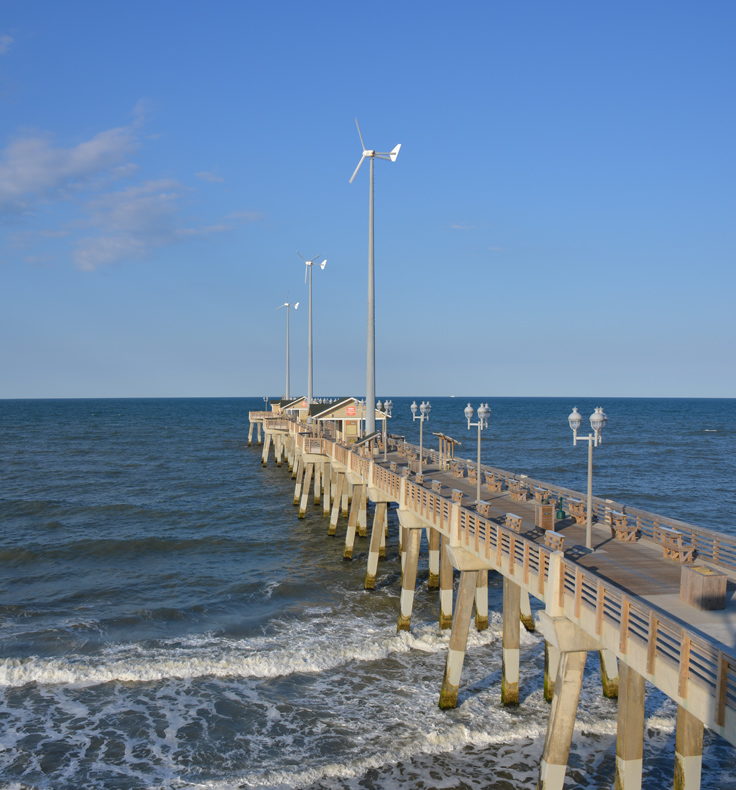 The Jennette Brothers and Warren H. Jennette Sr. stepped in and purchased five acres of oceanfront property not far from the stretch of millionaire beach cottages, and decided to build the Outer Banks first fishing pier. The proposed pier's location was actually perfect for such a venture, as the land abutting the ocean was already filled with small cottages, just waiting to be turned into makeshift camps for visiting fishermen.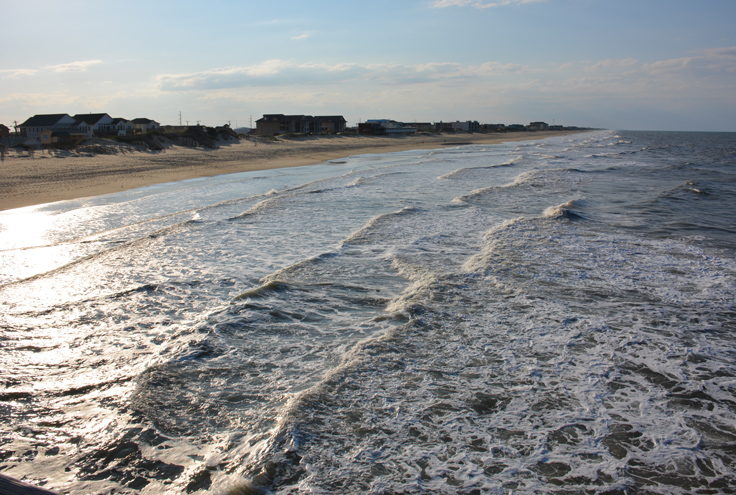 These original cottages were bare-bones beach accommodations at best, and were actually left over camping sites from the workers of the U.S. Civil Works Administration, who had arrived on the Outer Banks just a few years earlier to build protective sand dunes all along the beaches from Corolla to Ocracoke. The dune project was a part of a federal government effort to both protect the landscape and provide jobs, and during their heyday, these camps housed a strong portion of the 1,500 workers who travelled from far and wide for the opportunity to work and earn income after the great depression. In the Jennettes' eyes, these structures could be renovated to create perfectly livable, comfortable and budget-friendly vacation cottages.
With a game plan in mind, the Jennettes recruited the Virginia Dare Construction and Salvage Corporation to begin the construction, which began with up to 65' foot pilings being hammered into the ocean floor, and a 754' foot long and 16' foot wide boardwalk built on top of this sturdy base. At the end of the pier, the Jennettes added a 28' foot wide "T" shape to provide more elbow room at the pier's end, and likely most popular point.
One of the original camp cottages was moved to the head of the pier to serve as a "pier house," or rather, an indoor place to change and grab a cold drink.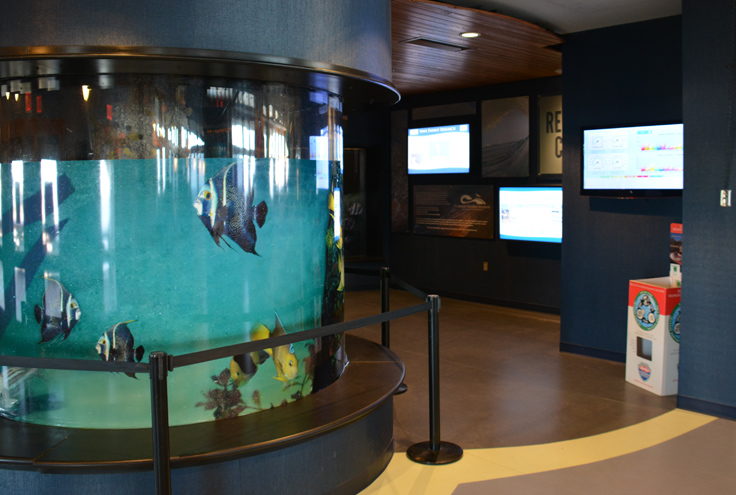 Jennette's Pier officially opened in 1939 to rave receptions, and sure enough, the Outer Banks' own "Famous Fishing Pier and Motor Court" attracted fishermen from all across the country who were eager to test out the local Nags Head waters. Over the decades, huge catches were landed from the end of the T-shaped pier, including red drums, bluefish, striped bass, mackerel, and flounder, with some state records being shattered in the process, and the pier essentially helped broaden the number and kinds of visitors that headed to the Outer Banks.
Noticing the popularity of the original pier, more piers would pop up, first in the central Outer Banks towns of Kill Devil Hills, and then further south in Rodanthe, Avon and Frisco after the Bonner Bridge opened in 1963 and shuttled tourism, and specifically fishermen, further south.
For decades, the pier was under the watchful control of the Jennettes, and additions were made over the years including a tackle shop, a restaurant, and even an arcade for the youngest pier visitors. Over the years, the surviving Jennette family members and heirs sold their interests in the pier to other parties, and the pier in its entirety was sold a final time to the North Carolina Aquarium Society in 2002 in the hopes that it would become the first educational fishing pier outpost for the society.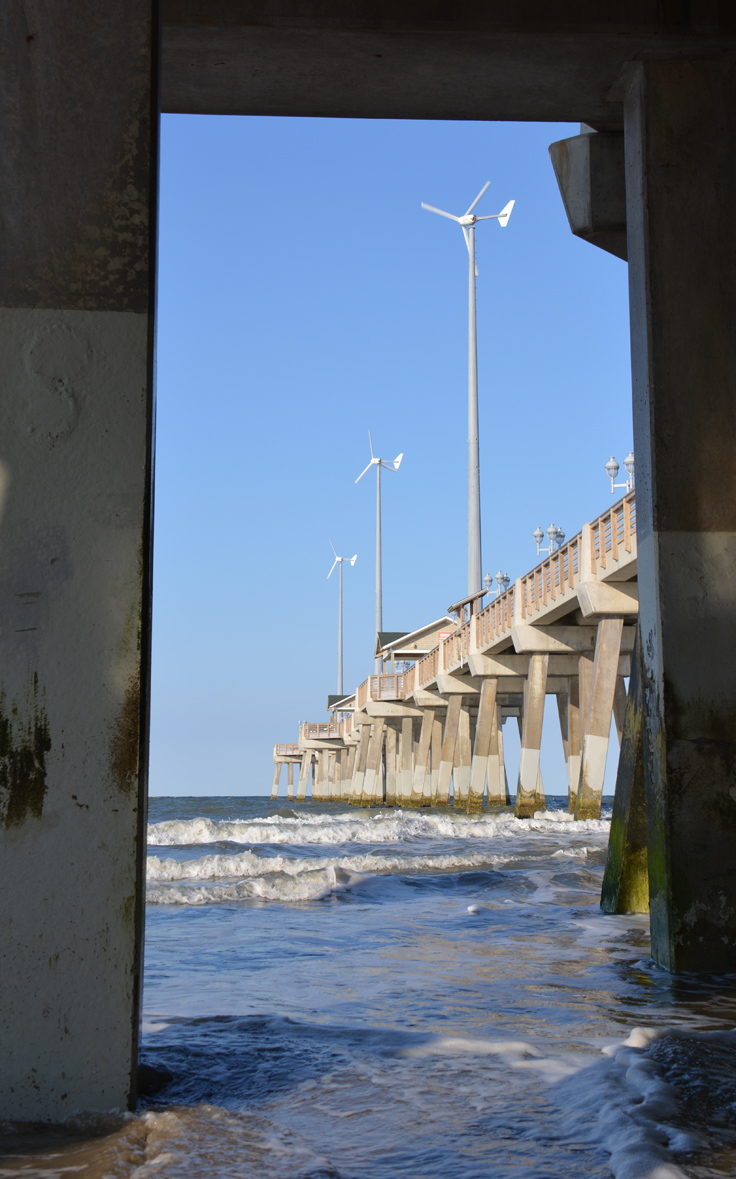 In fact, the purchase of Jennette's Pier was the first of three planned ocean fishing piers that also served as educational centers in North Carolina, and the NC Aquarium System was eager to transform the first of their acquisitions. Unfortunately, just months after the purchase, their plans were put abruptly on hold.
In September of 2003, Hurricane Isabel hit the Outer Banks as a weak category 2, and ended up being one of the costliest and most damaging hurricanes of the year, if not the decade. The downgraded category rating upon landfall was small comfort considering that just days earlier, the hurricane was classified as a category 5, and as a result, walls of ocean waves battered the Outer Banks coastline for hours before the hurricane even approached the coast.
As a result, an inlet was cut through Hatteras Village, hundreds of oceanfront homes from South Nags Head to Kitty Hawk were devastated, and Jennette's Pier was all but destroyed, with over 540' feet of the pier falling into the ocean and shutting the pier down for months afterwards.
But Outer Banks residents have always been resilient to storms, no matter how damaging, and having not yet started their renovations, the North Carolina Aquarium and their builders simply altered plans for a new, and virtually hurricane-proof $25 million dollar restoration. This was an ideal time to construct a safer, hurricane-resistant pier with solid concrete pilings that would stay put regardless of the wind speed. In addition, the pier was expanded to 1,000' feet, making it one of the longest on the Outer Banks, and the pier house was completely renovated to house the standard tackle shop supplies for pier fishermen, but also double as an educational center.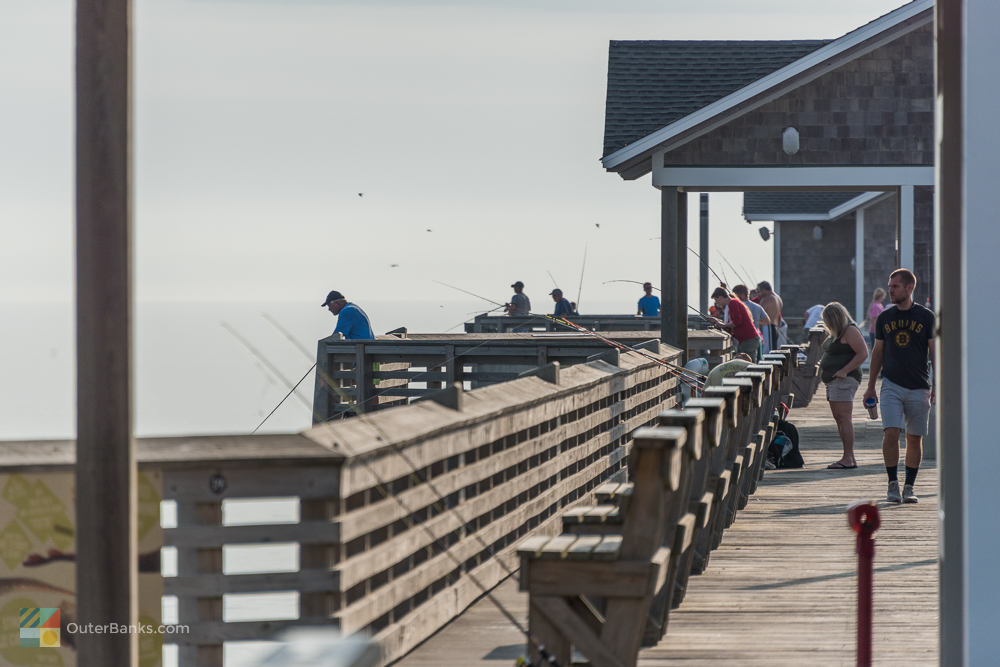 On May 22, 2009, North Carolina Gov. Beverly Perdue led the builders and locals in a ground-breaking (or sand-breaking) ceremony to celebrate the upcoming reconstruction, and just two years later in May of 2011, the pier opened its doors to fishermen, sightseers, and curious locals and visitors who were waiting to find out the fate of the Outer Banks' oldest pier.
The builders and aquarium's "hurricane proofing" plans were tested a couple months later when Hurricane Irene swept through the area in August of 2011, and the structure held up perfectly fine, opening just a day or so after the storm's departure.
Today, Jennette's Pier is one of the most popular fishing piers on the Outer Banks, attracting thousands of anglers from all around the country, in addition to families and curious vacationers who simply want to learn a little more about the extensive North Carolina Aquarium programs that are an essential part of the pier's daily operations.
The pier may be unrecognizable from its original heyday as one of the Outer Banks' biggest attractions to early visitors, but it certainly still draws in the crowds eager to reel in a superb catch, or simply enjoy some of the best views of Nags Head outside an aerial tour. Seasoned vacationer should revisit their old favorite fishing haunt, while newcomers are encouraged to come see what all the fuss is about. After over 80 years of operation, Jennette's Pier is better than ever, and is still welcoming new anglers in search of the big dream of reeling in the big one.

Visiting Jennette's Pier
Jennette's Pier is open year-round, and welcomes anglers of all ages and skill levels daily. The hours vary, but usually the pier is open from about 5:00 a.m. until midnight in the prime summer season, when surfside angling is at its best, and the beaches are at their most popular.
The pier offers a number of benches and stands for anglers to set up camp, and find a comfortable place to relax with a fishing pole in hand. Trash cans are located along the pier for convenience, as well as tall lights that are lit up at night to provide anglers with a little extra illumination for baiting their hooks or packing their fresh catches in ice.
The pier has a small tackle shop for bait and rigs, and newcomers can even rent a rod and reel for the day for a small fee to enjoy the thrill of pier fishing without purchasing the extra equipment. Drinks and snacks are also available for anglers who are in it for the long haul, and who need a little refreshment in between casts.
On the other side of the spectrum, visitors can meander through the pier house's exceptional educational center which features an Ocean Classroom and a 'Giants of the Sea' exhibit, featuring some of the region's largest collection of trophy mounted catches.
The beaches surrounding Jennette's Pier are also wide open to the public, with free parking and public restrooms and outdoor showers available for all visitors. Educational classes on fishing as well as the local marine specimens are held regularly and can include subjects such as the art of jigging, or cleaning and cooking the fresh catch you just reeled in. A number of classes are designed specifically for the youngest anglers in mind, and are ideal morning or afternoon activities for the youngest fishermen in your group.
The pier also has a blanket fishing license, which means that anglers do not have to purchase a saltwater fishing license to cast a line from the pier, and weight stations are available nearby to distinguish those special citation catches.
A citation-worthy fish varies on species, but generally the biggest catches of certain type of fish are eligible for a North Carolina Citation, which is basically a certificate issued by the state of North Carolina recognizing your incredible catch, and which is mailed weeks after a vacation in frame-worthy style. A North Carolina citation is the end goal for any Outer Banks angler, although having a couple good fish stories to bring home is certainly a good second place prize.
Tips and Tricks for Visiting Jennette's Pier
Remember that you don't have to be an avid fisherman to enjoy Jennette's Pier. Sightseers are just as frequent as fishermen on this concrete structure, and anyone out for an afternoon stroll will be captivated by the sight of accomplished anglers reeling in huge catches, the dark shadows of fish scurrying underneath the pier pilings, and the out-of-this-world views of the town of Nags Head itself. In fact, there's no better way to get a new perspective of the Outer Banks from the ocean's viewpoint than a long walk down an equally long pier, and visitors are advised to bring their cameras to capture some of the best shots of their vacation.
While rod and reel rentals are available at the pier house, anglers are advised to bring their own coolers or purchase them before heading to their favorite pier fishing spot. 1,000' feet may not seem like a great distance, but when you're lugging along coolers, bait, tackle, gear, and anything else one might need for a full day of fishing, that short walk gets awfully long pretty quickly. Frequent visitors should look for coolers with suitcase-style rollers and pole holders for the best way to maneuver on and off the pier on a regular basis.
As part of the North Carolina Aquariums system, the pier offers a range of activities geared to young and old, newcomers to the scene and established anglers alike. Let the kids play and enjoy a quiet evening out with the "Kids Night Out" program, which entertains the young ones with pizza and activities on the pier while the parents explore on their own. Guided tours of the beaches at night, (including ghost crab hunts), are also available, as well as daily fish or fishing classes which cover the basics of both the Outer Banks marine life, and the best way to reel them in. Programs are offered seasonally, generally from the spring until the fall during prime visitor months, and are offered to everyone who has an interest in the local fishing scene. Be sure and check out the Jennette's Pier calendar of events (at the above website) find out the educational and completely entertaining options are coming up on the horizon.
Ever dream of a quiet beach wedding a hundred feet above the ocean? Or perhaps an educational birthday party that revolves around pier fishing? Jennette's Pier is available to rent for special occasions such as birthday parties, weddings or receptions, or even business excursions. For an event that is truly spectacular, contact the pier regarding their special packages for birthdays, weddings, and all of life's special celebrations.
For anglers who want to brush up on the basics of fishing Outer Banks-style, consider enrolling in the seasonally available private lessons program. This educational outlet is available to promising anglers from March until December, and for a nominal cost, fishermen can get an in-depth tutorial on jig fishing, surf fishing, and wade fishing from local experts. To truly immerse yourself in the local fishing environment, and increase your chances of landing one big catch after another, a private fishing lesson certain improve your odds.
After decades of notoriety, many locals were afraid that after the onslaught of 2003's Hurricane Isabel Jennette's Pier was lost for good. Piers being damaged and subsequently disappearing have become a widespread issue, with a number of piers permanently shutting their doors after a severe storm. In fact, the North Carolina Aquarium estimated that out of the 36 North Carolina piers in operation in 1980, only 20 remain open to modern vacationers.
Thankfully, Jennette's Pier serves as an inspiration to North Carolina piers of what feats can be achieved despite a walloping round of storms and hurricanes. For an intricate look at the North Carolina Aquarium Society's future, or simply a fantastic day of beach fishing, be sure and plan a trip to Jennette's Pier. With amazing oceanfront Nags Head views and dozens of big catches being reeled in on a daily basis, it's no wonder that this pier has been a staple for Outer Banks vacationers for generations, and shows absolutely no signs of slowing down in popularity.
OFF SEASON HOURS VARY -
DECEMBER - MARCH - 8 A.M. TO 5 P.M.
APRIL, SEPTEMBER, OCTOBER, NOVEMBER - 6 A.M. TO MIDNIGHT
MAY - AUGUST - 5 A.M. TO MIDNIGHT