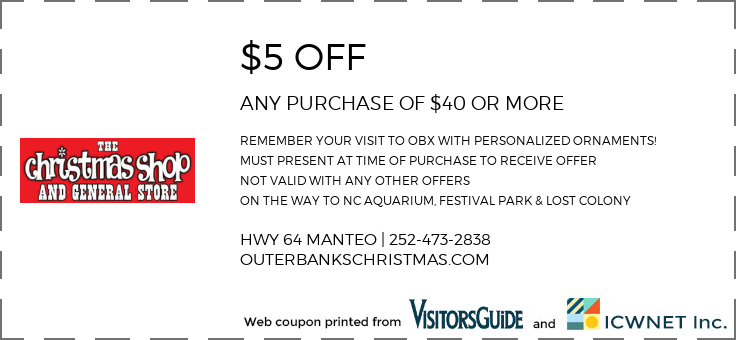 print
It's not just a Christmas Shop... It's an experience!
Explore our 25,000 sq ft store, full of unique gifts, Christmas ornaments and decor, locally made candy and snacks, jewelry, local art and so much more!
Discover gifts, garlands and glittering lights galore. Looking for a trinket for someone who has everything? Choose ornaments for every hobby, occupation, occasion or enthusiast from the fisherman or The Simpsons lover to dancer or photographer.
Wander through several intimate spaces peppered with antiques for sale, which include clothing, statuary, paintings and unusual household items.
Only a few miles from the sea, the shop is awash with coastal soaps, carved decoys, glass sea life and breathtaking ornaments.
Hungry? Enjoy delectable fudge and old-fashioned candy. Add to your pottery and art print collection and visit the onsite jewelry artist. A Halloween Shop enlivens the second floor. Books appear throughout the sprawling venue creating interesting vignettes where one can pause and browse. Many of the tomes were relocated from Manteo Booksellers, which closed due to damage from Hurricane Irene.
Plan to spend time at the Island Gallery and Christmas Shop. Think of it as a day trip and one-stop-shop for the unique and magical. During December, the proprietors offer a handsome discount to all shoppers. Many a family started their ornament collection right here including baby's first! Call for seasonal hours.