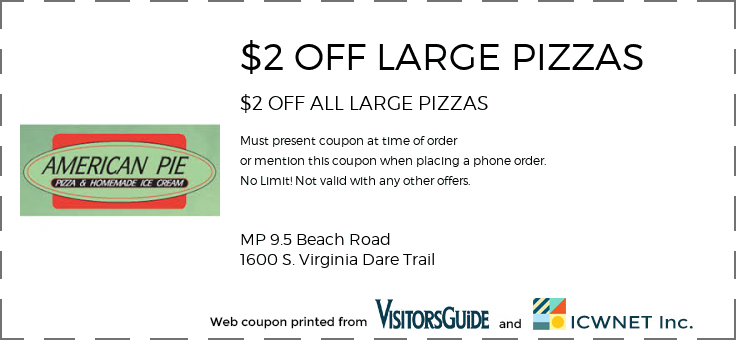 print
As the name implies, American Pie offers delicious made-from-scratch, hand-tossed New York style pizza, but it's really the ice cream that steals the show. This little beachside eatery offers pizza, wings, hot sub sandwiches, salads, ice cream and smoothies. You might find you need to make two trips here in a day, one for lunch another for your evening dessert.
American Pie's pizza is made with fresh ingredients and has a soft, chewy crust. Build your own pizza with a choice of toppings or order specialty pizzas like the BLT Pizza, Meaty Italian or The Mexican. The Weed Eater pizza is a vegetarian's delight, loaded with vegetables and mozzarella. Salads and sub sandwiches, calzones and stromboli are available as well. Hot sub sandwiches include Chicken Parmesan, Veggie and Cheese, Ham and Cheese and Super Steak and Cheese. Pick up spicy and BBQ wings by the pound or satisfy beach day munchies with fries, breadsticks, cheese sticks or corndogs.
American Pie is synonymous with creamy, homemade ice cream with a selection of sweet, chunky, chocolatey or fruity flavors. The 16-flavor selection ranges daily from Black Raspberry, Apple Pie, Cuban Coffee Oreo, Coconut, Chocolate Peanut Butter, Mint Chip and Key Lime Pie. Waffle cones, shakes and root beer floats will hit the spot, as well as fresh fruit smoothies.
Choose between indoor or outdoor seating, both offer a fantastic casual atmosphere that the kids will love. The outdoor seating is shaded and offers a great way to enjoy the weather. Open until 11 In season!