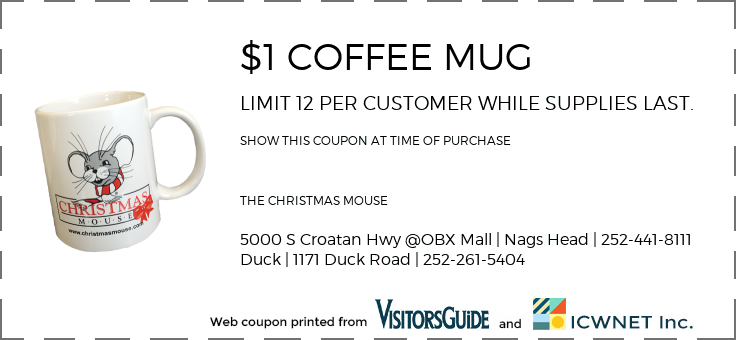 print
An amazing collection of everything having to do with America's favorite holiday, the Christmas Mouse is open year round—ironically, it's only closed on Christmas Day—with the busiest months in June, July and August. The 2-story, 8,000-square-foot store off U.S. 158 in Nags Head at Milepost 10.5, which opened in 1987, features nine rooms upstairs and four sections downstairs, with almost every room filled with decorated Christmas trees and wreaths, stuffed Santas and teddy bears, elves, angels, and blinking or shining lights.
One favorite room for Outer Banks shoppers is the "nautical room," with items like sand dollar and lighthouse tree decorations, miniature boats, carved fish and beach-y picture frames that can be personalized. Tourists enjoy buying the beach-oriented ornaments as vacation souvenirs. And for those who are Christmased-out, there's a whole room in the store that features Halloween items all year long.
Another Outer Banks location can be found in Duck, and there are six more Christmas Mouse stores throughout Virginia and South Carolina.
Hours are extended in the summer months.
Duck: 10AM-10PM
Nags Head: 9AM-11PM