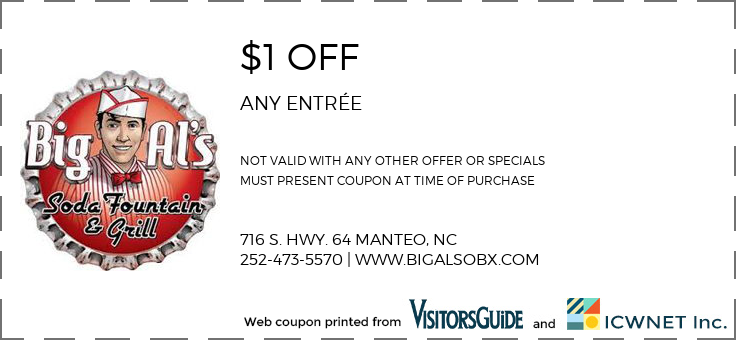 print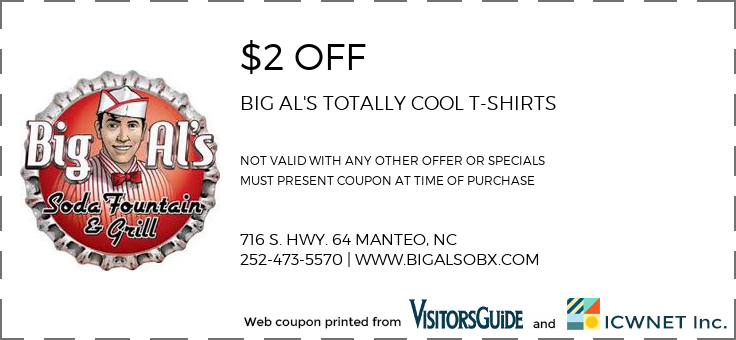 print
Big Al's is a family run restaurant that opened 1997. The 1950's Coca Cola-themed décor compliments the home-style food filled with comforting family recipes and blue-plate specials. The family of fishing captains offers fresh fish, of course, as well as Mom's favorite meatloaf. Serving traditional diner fare – hamburgers, cheese steaks, clubs, and BLT's – Big Al's also caters to the health conscious diner with offerings such as beans and rice, hummus, and a wide variety of salads. The kid's menu has the usual faves including chicken tenders, peanut butter and jelly and even fish sticks! You can sit at the soda fountain and have a malt, shake, vanilla or cherry coke, orange creamsicle, a Shirley Temple or other delicious treats, or occupy a roomy booth that can seat as many as six.
This is a great place for birthday parties, class reunions and other affairs as it has two separate dining areas and buffets easily can be set up.
The atmosphere is bright and spacious with a central dance floor and tunes on the jukebox where couples can dance or tykes can entertain themselves while parents relax nearby while watching their antics. The restaurant includes a game room as well as a 50's themed gift store.